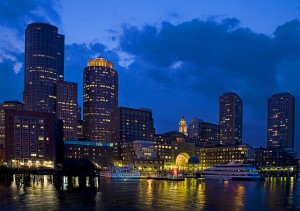 We're excited to join our colleagues in the nuclear energy industry for the Nuclear Information Technology Strategic Leadership workshop. The 38th annual event kicks off today in Boston as industry professionals gather to address the issues involved with information technology used in nuclear-powered utilities. This year's event will focus on solutions and success through technology leadership.
Workshop speakers will explore a wide variety of topics ranging from critical infrastructure protection and NEI cyber security updates to data quality/control best practices and cloud computing.
In addition to the valuable educational opportunities offered at the NITSL workshop, attendees will have ample time to network. Catching up with colleagues and industry professionals is one of the many reasons that Burns & McDonnell's Jerome Farquharson is at the workshop.
"The reason I'm attending the NITSL conference is to continue networking and meeting other cyber security professionals in the nuclear cyber security world," says Farquharson, who serves as the security department manager in our St. Louis office. "It gives me an opportunity to learn their challenges and how they're approaching them. I get great insight to identifying possible solutions for our clients."
Workshop attendees will also have an opportunity to connect with exhibiting vendors and companies. Burns & McDonnell is one of the exhibitors, so be sure to look for us and say hi!
If you're attending the NITSL workshop, feel free to drop back by the blog and let us know what you thought of this year's event. What were your favorite presentations? It's going to be an info-packed three days, and we're ready to learn. If you work in the nuclear energy industry and this event isn't already on your radar, be sure to keep an eye out for details regarding next year's workshop.
See you around Beantown!
Image by Muffet via Creative Commons