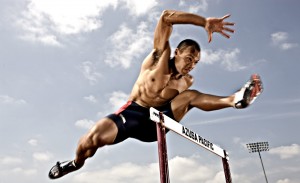 What does engineering have to do with the Olympics? As you gear up to watch the 2012 Summer Olympics, you may be surprised to learn that engineering has a lot to do with athletic performance. A new video series created by the National Science Foundation and NBC entitled "Science of the Summer Olympics: Engineering in Sports" aims to showcase the connection between engineering and the Olympics, featuring topics that include athlete protection, training systems and athletic performance.
The videos not only provide a fascinating perspective of athletic achievements like Bryan Clay's long jump and Missy Franklin's swimming, they also show the importance of engineering and how it impacts things you wouldn't normally think of, like the Olympics.
"The work of engineers not only affects Olympic sports, it also helps us perform ordinary activities in better ways," said Thomas Peterson, NSF assistant director for engineering. The series is designed to inspire young people to pursue engineering by showing how engineers impact everything in society — even sports. We already suspected that, but it's great to see others thinking that way.
And that's exactly what we love about this video series. It's packed with great information, not to mention interviews with some of our favorite Olympic athletes. A number of prominent engineers are also featured including Timothy Wei of the University of Nebraska-Lincoln; Nikhil Gupta of Polytechnic Institute of New York University; Samuel Hamner of Stanford University; and Cris Pavloff, advanced technology engineer for BMW.
The series also shows how important and versatile engineering is — and how it impacts people, industries and events in ways you might not expect. And that just might inspire a young viewer to pursue an engineering career, something we wholeheartedly support.
Practicality, performance and innovation — these themes resonate throughout the video series and are prized engineering attributes, regardless of the project or industry.
Consider kicking off your Olympics festivities with the "Science of the Summer Olympics" video series. And if you like it, share it. You, too, might inspire the next generation of engineers!
Image via BryanClay.com