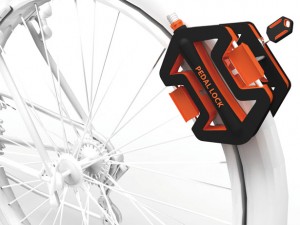 Whether for fitness, sport or eco-friendliness (or a combination of the three) there's no denying that bicycling is hot. Not only are more people riding for pleasure, they're commuting to work by bicycle. In fact, Bicycle Friendly Communities reported a 95 percent average increase in bicycle commuting since 2005.
At Burns & Mac, we have tons of cycling enthusiasts (and our own team participating in the upcoming PanMass Challenge in the New England market), so we pay a lot of attention to what's new and exciting in the world of cycling. One thing every cyclist knows, proper cycling gear is a key component of the ride. Equally important is a lock — to keep your bike safe and your wheels where you leave them.
Enter the Pedal Lock, an awesome idea and one of our favorite new discoveries. The creation of two Taiwanese designers, the Pedal Lock uses detachable pedals that are re-formed as a back wheel lock. The designers estimate that it takes about 13 seconds to lock the Pedal Lock, making it comparable to more traditional coiled or U-shaped locks.
The twofold approach is what makes the Pedal Lock so effective. Let's say a would-be thief managed to pry the lock off the bike's back wheel. Doing so would damage the pedals, leaving the bike bandit unable to pedal off into the sunset.
Of course, that doesn't mean that someone wouldn't simply carry the bike away. For maximum protection, team the Pedal Lock with a traditional chain lock that will secure your bike to a lamppost, street sign or bike rack.
As engineers, we're always on the lookout for simple, effective products that solve a common problem, and the Pedal Lock certainly fits the bike — err, bill. Now, if only someone would invent a device that makes pedaling uphill a little easier …
Are you a cycling enthusiast? We'd love to hear some of your favorite must-have biking accessories.