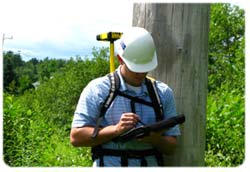 Want to increase productivity and efficiency? Mobile solutions are likely a big part of the equation for success. Sophisticated smartphones and tablets are giving consumers unprecedented access to information, regardless of their location. These same devices are becoming more prevalent on worksites, too, giving companies, vendors and clients immediate access to data, analysis and other pertinent information.
We're big believers in delivering more efficient solutions and increased productivity to projects (and clients), and we've evaluated mobile solutions for our team of project managers. Ultimately, the mobile solution selected for integration into the Burns & Mac workflow was Motion F5v Tablet PCs.
The mobile devices offer a better, faster solution to collecting, moving and managing data from the field to the office, completing in seconds what may have previously taken weeks.
During a recent facility audit project for a large cleaning supply client, our employees put the mobile devices to work by tracking more than 800 deficiencies and issues throughout the audit period. A task of this size would normally have taken close to a month. Instead, the team completed the work in five days. That's the sort of efficiency that makes clients happy — and allows us to get more work done in a shorter timeframe.
"We are in an industry where technology is not the focus of our users' businesses, and we have to select tools that will work for everyone and provide the best results possible, as client success is our number one priority," said Bryan Claxton, Burns & McDonnell associate project manager.
Mobile technology has proven to be a valuable asset in a number of projects, including those that require the project team to monitor and oversee surveys on endangered species, as well as other environmental concerns. And to our way of thinking, use of mobile solutions will only continue to increase. After all, it's impractical to set up workstations in the middle of a job site. By incorporating mobile technology like tablet computers, project teams don't have to sacrifice productivity or connectivity — and that means work is finished in a more timely, cost-efficient manner.
Has your company incorporated mobile technology into the workflow? What sort of equipment are you using?
Image via Motion Computing