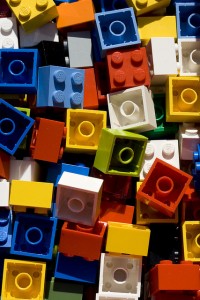 There's no denying that Legos are pretty amazing. But when they're integrated into classrooms and science, technology, engineering and math (STEM) learning — that just makes them even better. Sure, they're a childhood staple (and, let's face it — fun to play with as adults, too), yet the iconic plastic bricks can help teach much more than basic building techniques.
At the Queen Mary University of London, for example, the School of Physics and Astronomy offers Lego kits that teach physics concepts through a variety of activities. Three kits are available with each focusing on different aspects of physics: building the universe, fission and fusion, and particle physics.
The building the universe kit, for example, includes a display poster and a booklet that explains the sequence of events that led to the creation of the universe as we know it.
The fission and fusion kit includes red, yellow and white Lego bricks, as well as a booklet that explains the basic concepts of fission and fusion. Yellow bricks serve as protons, red as neutrons and white as electrons. From there, the booklet shows various Lego configurations that illustrate the two concepts, as well as chain reactions.
The particle physics kit is a full educational package that includes a booklet, accompanying PowerPoint presentation and a lesson plan that can help guide classroom instruction. A wider variety of Legos are used to represent various combinations like baryons, mesons and leptons. And from there, you can use Legos to explore combinations, interactions and decay, among other topics.
Although these kits aren't part of Lego's official educational line-up, they're not the first instance of using Legos in the classroom. The company offers a variety of Lego sets and curriculum guides designed for elementary, middle and high school students in an effort to get them excited about STEM education.
As engineers, we're big fans of anything related to STEM education — and Legos, too. To our way of thinking, making education fun is a great way to get kids interested in a variety of subjects, instilling a lifelong interest in learning that will carry them through their careers. And if Legos can help inspire a few engineering careers along the way, we're all for that.
Image by woodleywonderworks via Creative Commons