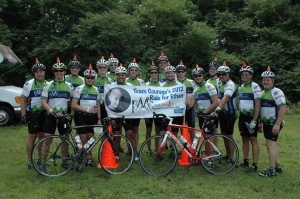 Earlier this month, a team from our New England office hit the road as part of the annual Pan Mass Challenge, a two-day bike-a-thon that follows a 190-mile route from Sturbridge to Provincetown, Mass.
The ride undoubtedly tested the team's endurance and biking skills, but, more importantly, Team Courage participated to raise money in the ongoing fight against cancer. The team of 20 pledged to raise more than $140,000, and so far, they're at $125,000. Donation numbers won't be finalized until October 1, which means Team Courage is still collecting funds.
The sad reality is that we have all likely known someone who is fighting or has battled cancer — or may have even experienced it ourselves. Burns & McDonnell's Jeff Buckley is no exception. As he discussed in a Hartford Courant story, Jeff participated in the Pan Mass Challenge on behalf of his wife, Cristin, who was diagnosed with lymphoma at age 24, only one month after giving birth to their first child.
"I ride because I respect what my wife had to go through," Jeff said in the story.
This isn't the first year that Team Courage has participated in the Pan Mass Challenge. For the past four years, employee-owners in our New England office have inspired each other to get involved, increasing the company's participation and fundraising with each year.
This year's event does, however, come with its own milestone. For the first time, Team Courage adopted Ethan Bairos as a Pedal Partner. Ethan is 7 years old and battling acute lymphoblastic leukemia. The Pan Mass Challenge gives the team the opportunity to connect with Ethan and support him throughout his treatment.
The Pan Mass Challenge is widely recognized as one of the larger athletic fundraising events in the country. This year's collective fundraising goal is $36 million, which will go to cancer research and treatment at the Dana-Farber Cancer Institute.
We'll be sure to keep you posted on Team Courage's final fundraising totals. We're so proud of the team and everyone who participated in this year's challenge. We can't wait until they hit the road again in 2013!