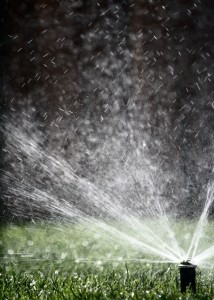 Widespread drought conditions have wreaked havoc on plants, lawns and land throughout the country. And although it's tempting to douse your lawn and garden with water, don't do it! Instead, save money and keep your lawn in prime condition by keeping this tip in mind: Your landscape needs about an inch of water each week to stay healthy.
To make sure you're hitting that target, you'll want to measure your watering device's output, whether you use sprinklers or a hose. Brett Briant of the Lower Colorado River Authority suggests gathering a few simple materials to collect your measurements, including: empty cans with straight sides (like cat food or tuna cans), a permanent marker, a ruler and a timer.
Once you've gathered your materials, follow these steps to measure your water:
Mark the inside of the cans at one-quarter inch, one-half inch and one inch.
Put one can near your irrigation system's spray head and the other at the end of the spray zone.
Turn on your irrigation device and set your timer for 15 minutes. Once time is up, turn off the water and check to see how much has collected in the cans.
Add the two measurements together and divide by two — this will give you the average amount of water for the area.
Once you have your average, you can quickly determine how long it takes to water one-half inch. As Brett writes, if your cans hold one-eighth of an inch after 15 minutes, you'll need to water your property for an hour. If they hold one-quarter of an inch, watering for 30 minutes is ideal.
Regardless of your location or watering duration, never water in the heat of the day. You'll lose the majority of your water to evaporation. Instead, water before 10 a.m. or after 7 p.m. And be sure to check your city or water provider's schedule. Many areas have enacted restrictions as a result of drought conditions, and you want to make sure you adhere to those guidelines — even if your lawn does have to suffer for a couple of weeks.
If you try these tips, let us know how it works out!
Image by mccun934 via Creative Commons