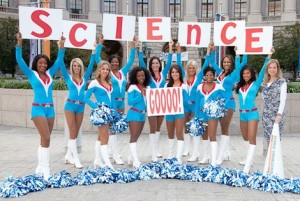 Engineers serving as cheerleaders to spur girls to explore science? You bet. As a building block of science, engineering, math and technology (STEM) education, science has long been not just an important area of study, but a critical career path, too. Yet girls are more likely to lose interest in science than boys, which has reduced the number of college graduates with science degrees — and that's where Science Cheerleader comes in.
Created by Darlene Cavalier, Science Cheerleader is comprised of former NFL and NBA cheerleaders who have pursued careers in science, engineering, math and technology.
Consider Rachel, a former San Francisco 49ers cheerleader who earned a chemical engineering degree from the Massachusetts Institute of Technology (MIT) and now works at Tesla Motors, or Kristy, a former Atlanta Falcons cheerleader who's a chemist with the Centers for Disease Control. They're an impressive group, right?
Despite their varied science and engineering backgrounds, the cheerleaders at Science Cheerleader have one thing in common: A desire to spark interest in science!
"The Science Cheerleader serves to get the conversation going, rally the troops, solicit views from all sides, and change the tone of science and science policy in this country," according to Darlene.
To help inspire increased involvement and interest from a group of people who Darlene calls Scientific Citizens, the Science Cheerleaders perform across the nation "to playfully challenge stereotypes and inspire the 3 million little cheerleaders in the U.S. to consider careers in science, math and engineering."
Want to see the Science Cheerleaders in action? Take a look at their recent performance at the USA Science and Engineering Festival.
Now you're feeling energized and ready to make the next great scientific discovery, right? We're fans of anyone and anything that gets girls interested in STEM education — and Science Cheerleader is just the sort of creative endeavor that could help inspire more girls to explore all the possibilities science has to offer.
Ready? All together now: Goooooo science!
Image via Science Cheerleader