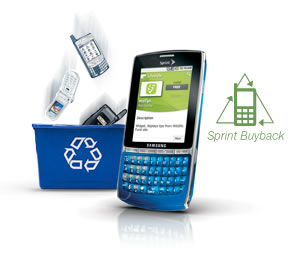 When it comes to creating and implementing corporate sustainability policies, many companies turn to areas such as water and energy usage and recycling. And for electronics manufacturers, device recycling can represent a huge opportunity not only to save money, but to give old technology a new life, too.
Major cell carriers offer phone buyback programs to help encourage consumers to return their broken or outdated devices, rather than simply tossing them in a drawer (or, worse, a landfill). For a second consecutive year, Sprint Nextel's phone buyback program ranked first.
One of the reasons for Sprint's continued success? Widespread messaging that includes signage, sponsorships and instant in-store credit, as well as a customer experience that's easy and convenient.
In addition to continued growth of the phone buyback program, Sprint has committed to collecting 100 percent of the company's own e-waste for recycling and reuse by 2017 — one of four goals in Sprint's Electronics Stewardship Policy.
We applaud Sprint for a continued commitment to reducing e-waste. As smartphones and tablets become increasingly popular, the problem will only get bigger. In fact, Compass Intelligence reports there will be nearly 324 million idle or inactive mobile phones in the U.S. by the end of the year. And of those only about 40 million will be recycled.
If you're interested in recycling your own e-waste, drop by your nearest cell phone retailer to learn more about your options. You can also visit the Environmental Protection Agency's website for a listing of local e-waste recycling programs that accept computers, cell phones and other electronics.
And here's one more tip. Before you recycle your gadgets, make sure you've wiped any data or personal information from them. For cell phones, this includes removing any data cards and restoring the phone to its factory defaults. For computers, try using wipe utility software, which will overwrite your hard drive.
Have you started recycling your outdated electronics? Do you go directly through the manufacturer or use another program?
Image via Sprint