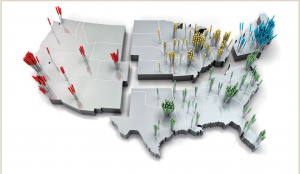 Engineering design software integrated with 4D construction modeling caught the eye of InformationWeek, leading to Burns & McDonnell's first-ever inclusion on the annual InformationWeek 500.
Each year, InformationWeek 500 identifies the nation's most innovative users of business technology. Editor-in-chief Rob Preston calls this year's innovations "particularly impressive."
"What the editors looked for are unconventional approaches — new technologies, new models, new ways of grabbing business opportunities and solving complex business problems with IT," Preston said.
Burns & McDonnell caught the attention of InformationWeek with engineering design software that uses innovative 4D construction modeling to assist with large, complex projects. By creating 4D design processes, our engineers and construction professionals are able to improve productivity on construction sites, avoid costly scheduling delays and recognize design efficiencies that frequently allow projects to be delivered under client budgets.
Whereas 3D construction and design models have become an industry standard, the 4D process integrates the concept of adding the dimension of time to the other standard spatial dimensions typically modeled in advanced design software. The inclusion of this dimension adds an important category of information that proves valuable throughout the design and construction process and is increasingly important as tighter timelines and cost restraints demand project solutions that are delivered on time and on (or under) budget.
This sort of innovative technological integration is what the InformationWeek 500 is all about. Now in its 24th year, the list serves to recognize those companies that are making innovative uses of business technology to provide creative solutions to common business problems. And since we're dedicated to creating and implementing cutting-edge technological tools that help us deliver innovative, efficient solutions to our clients, it's an honor to be included with other companies that are doing their part to not only recognize innovation, but also embrace it.
Congratulations to everyone on the 2012 InformationWeek 500 list!
Image via InformationWeek