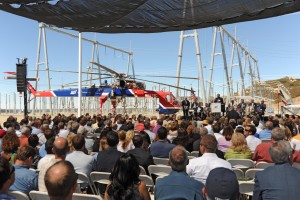 San Diego's renewable power supply recently received a much-needed boost from the completion of Sunrise Powerlink, a 117-mile, 500-kV project led by San Diego Gas & Electric.
A recent dedication of the Sunrise Powerlink transmission line (pictured at right) celebrated the official completion of an extensive project that included a five-year environmental review and permitting process, as well as 18 months of construction. The $1.9 billion project links San Diego to the Imperial Valley, an area known as "one of the most renewable-rich regions in California."
Not only does Sunrise Powerlink deliver much-needed renewable energy (including solar and wind energy) to the San Diego metropolitan area, it's also a fascinating case study in how to successfully complete a complex project that includes overhead and underground technology, varying climates, and remote terrain. Here's a closer look at Sunrise Powerlink by the numbers:
More than 110 miles of overhead 500-kV and 230-kV transmission towers and conductor
6.2 miles of underground 230-kV cable
A 40-acre, 500-kV transmission substation
4.7 million work hours required to complete the project
More than 28,000 flight hours required to complete aerial construction
The Sunrise Powerlink project provides vital infrastructure that will provide more renewable energy to the San Diego area, and it will help boost SDG&E's overall percentage of power derived from renewable resources. Additionally, the project reverses a trend of decreased economic activity in the Imperial Valley.
"This vital infrastructure project and the construction jobs that were created as a result have revitalized the Imperial Valley region, which has experienced high unemployment for years," said Imperial County Board of Supervisor Gary Wyatt. "The Sunrise Powerlink, which now provides the pathway for local renewable energy projects, enables us to develop Imperial County's abundant renewable energy resources while also preserving our natural resources and native habitat."
Interested in a look at how this massive project came together? Check out this video created by our friends at SDG&E.
Burns & McDonnell is proud to have served as owner's agent on the Sunrise Powerlink project, as selected by SDG&E. We provided a number of services, including engineering, bid phase services, project controls, construction management, GIS mapping and environmental monitoring, to name a few.
Now that this important project is complete, we're excited to see the positive effects it will have on the Imperial Valley — not to mention San Diego. Renewable resources are undoubtedly the future of energy, and projects like Sunrise Powerlink are paving the way for this continued shift.
Congratulations to all involved!
Image via SDG&E