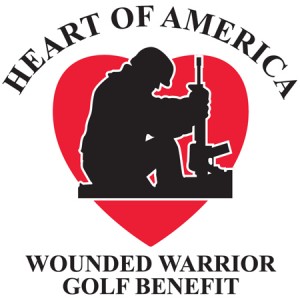 In the past decade, more than 40,000 service members have returned from wars with traumatic physical injuries and lasting mental scars. That's why we selected the Wounded Warrior Project as our 2012 Charity of Choice.
Our yearlong campaign to raise awareness of and help the Wounded Warrior Project culminates on Monday with a benefit and golf tournament. The philanthropic festivities kick off at 9 a.m. with a patriotic ceremony, during which 101 The Fox will celebrate Military Mondays by giving a car to a deserving veteran through the Cars 4 Heroes program. After a presentation of colors by the Kansas Army National Guard, Richard Gibson of the U.S. Marine Corps will sing the national anthem, after which we'll recognize fallen soldiers, World War II veterans and all Purple Heart recipients. We'll also recognize and honor Abby Knapp and her 1-year-old daughter, Kinsley. Abby is the widow of Sgt. Mike Knapp, who was killed in Afghanistan in May. Guest speaker Colonel Hugh Mills will provide some remarks before we start the first annual Heart of America Wounded Warrior Golf Benefit.
The benefit to honor and empower our area's Wounded Warriors includes 18 holes of golf at Deer Creek Golf Club. Burns & McDonnell, along with Securitas Security Services USA, are proud to serve as premier sponsors of the event. Proceeds raised through tournament sponsorships, participation and donations will go directly to the Wounded Warrior Project to help fulfill the organization's succinct yet powerful mission: to honor and empower wounded warriors.
As we prepare for Monday's golf tournament, we'd like to take a minute to thank Burns & McDonnell employee Steve Brown. A military veteran himself, Steve had the idea to plan this golf benefit when we announced the Wounded Warrior Project as our Charity of Choice and has been a driving force in organizing the event. Fellow employee Brandon Kehl has also been instrumental in making this golf benefit happen.
If you'd like to help the Wounded Warrior Project, please join us for the patriotic ceremony on Monday. You can also make an online donation to the organization at any time.
Thanks in advance for your support. We also send our heartfelt gratitude to all of the military men and women who have selflessly given their service on behalf of our country. Your dedication is inspiring, and on Monday, we hope to show you how much your service has meant to all of us.