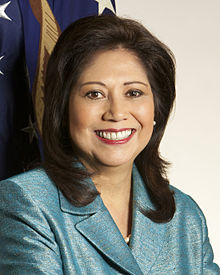 Hilda L. Solis, Secretary of the U.S. Department of Labor, is headed to Burns & McDonnell's world headquarters in Kansas City this afternoon for an event hosted by the Hispanic Chamber of Commerce of Greater Kansas City.
While in Kansas City, Secretary Solis will host a discussion on "Economy and the Latino Workforce: A Conversation on Education and Training." She'll talk about the role of the Hispanic workforce in the U.S., as well as the importance of labor-capitalization and education programs for Hispanic citizens. Secretary Solis will also present information about the funds designated to help community colleges with their labor-capitalization programs, according to the Business Journal.
Secretary Solis was confirmed as Secretary of Labor on February 24, 2009. Prior to her confirmation, she represented the 32nd Congressional District in California from 2001-2009.
During her time in Congress, Solis' priorities have included expanding access to affordable health care, protecting the environment and improving the lives of working families. She also authored the Green Jobs Act, "which provided funding for 'green' collar job training for veterans, displaced workers, at-risk youth and individuals in families under 200 percent of the federal poverty line."
Today's event will be held from 2 to 3 p.m and was organized by the Hispanic Chamber of Commerce of Greater Kansas City, an organization "dedicated to the creation, advancement, promotion and development of economic opportunities within the Hispanic market and business community."
We're thrilled to have Secretary Solis at our offices and in Kansas City and are looking forward to her remarks. If you'd like to follow along with today's event, feel free to follow us on Twitter @BurnsMcDonnell—we'll be live-tweeting the presentation using hashtag #bmcdlabor.
Thanks to the Hispanic Chamber of Commerce of Greater Kansas City for this wonderful opportunity!
Image via the U.S. Department of Labor