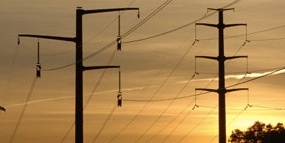 The electrical transmission industry continues to evolve at a rapid pace, which means it's more important than ever to stay up-to-date not just with current projects and best practices, but future technology and trends, too. For a closer look at technology and trends shaping HVDC transmission, make plans to join us for the next webinar in our 2012 Game Changers series.
"HVDC Transmission: Technology Update and Trends for the Future" will take place at 2 p.m. ET on October 25. It's a prime time to discuss this subject. The installed base of high voltage direct current (HVDC) system applications has increased dramatically around the world. Conventional thyristor-based systems have now reached +/- 800,000 volts and 6,000 MW for long-distance overhead line applications in China. Solid dielectric cables operating at 320 kV and other submarine cables operating at 400 kV or higher in combination with new insulated gate bipolar transistors (IGBT) type converters have been emerged with power levels that might reach 1,000 MW in the not too distant future. HVDC grids might even be practical for transmission off shore wind power plants to shore.
Our upcoming Game Changers webinar will discuss these developments, as well as the following:
The past and possible future use of HVDC systems in North America, as well as developments in other parts of the world.
Characteristics of the HVDC applications and the comparison of those to AC transmission.
Discussion of converter system fundamentals with comparing and contrasting the differences between thyristor-based and IGBT-based systems.
Major elements and design of thyristor-based systems.
Major elements and design of IGBT-based systems.
Multiterminal systems and possibilities for HVDC Grids.
Environmental issues.
Standardization issues and policy that might impact HVDC.
If you're interested in joining us for this 60-minute webinar, register here. And if you can't attend on October 25, be sure to access the presentation on-demand.
The Game Changers webinar series is the result of a partnership between Burns & McDonnell, GE and Transmission Distribution & World magazine. Topics this year have included 3D substation design, electric vehicle charging stations and sustainable substation design.
If you're interested in exploring more grid- and utility-related topics, check out our 2011 Game Changers series, too, which is available on-demand. You'll have access to nine episodes that explored innovative technologies and ideas that are changing how power is delivered and used. Topics included Large Battery Storage, Smart Metering/Advanced Metering Infrastructure, Asset Optimization and Uniting Utility Operations and IT for Smart Grid Success.
This year's Game Changers series will run through next month. If you have any questions, please feel free to contact our event coordinator, Kim Mulkey.