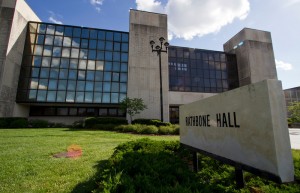 Smart Grid technology isn't only a topic of interest to professional engineers; it's an important concept for engineering students, too. A new Smart Grid laboratory at Kansas State University will give engineering students a state-of-the-art facility in which to conduct research and lab work, building on the university's already strong academic and research programs in electrical power and communications.
The lab, located at 2095 Rathbone Hall, was made possible through a donation from the Burns & McDonnell Foundation. Several companies in the power industry have or are in the process of donating equipment and furnishings. K-State's lab is modeled after Burns & McDonnell's Smart Grid lab, in our Kansas City headquarters.
Dr. Noel Schulz, the College of Engineering's associate dean for research and director of the Engineering Experiment Station, will serve as director of the lab. The facility will also serve as Schulz's home to pursue research on a variety of topics, including Smart Grid technologies, power systems, energy conversion, application of computer programs to power engineering, application of intelligent systems to engineering problems and more.
Additionally, the lab will serve as a key recruiting tool for K-State's engineering program.
"We plan to have high school students — from freshmen to seniors — tour this lab so they can see the tremendous opportunities available to them in this field of engineering," said Don Gruenbacher, head of the department of electrical and computer engineering. "This lab really is an important piece in meeting the state's Engineering Initiative Act to increase the number of engineering graduates from Kansas State University and other engineering schools in the state."
Interested in a sneak peek of the new lab? Join us for a ribbon cutting at 2:30 p.m. today at 2095 Rathbone Hall. The event will also include a dedication of the facility and is open to the public.
Congratulations to all who made this new Smart Grid lab possible. We can't wait to see what sort of research and technologies are produced as a result of access to such a well-equipped facility.
Image via the Kansas State Collegian