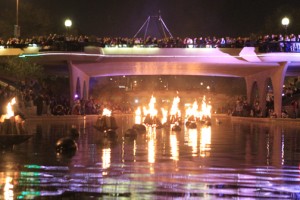 The team at Burns & McDonnell is psyched to be a presenting sponsor for this year's WaterFire Kansas City, an amazing art installation that uses music, water and fire to create a magical sensory experience.
This free event takes place in Kansas City this Saturday, Oct. 27 on the banks of Brush Creek, located just south of the Country Club Plaza. Artists will be coming from all over to delight and amaze you. Performances start at dusk and continue throughout the evening.
The brainchild of artist Barnaby Evans, who first created WaterFire in Providence, R.I., WaterFire events are all about his passion for using—and revitalizing—public space for art.
Often called "living fire" the sculptures feature more than 50 floating braziers on Brush Creek, which then set the stage for a variety of performances, including ballet and acrobatic dancers, chamber music and opera, pop, show tune, jazz and blues performances, and culminates in the grand finale of Stravinsky's Fire Bird Suite.

This graphic is a visual of the performance areas and if you'd like to check out a list of the performance schedule, that's accessible here. Tomorrow night's performances feature Quixotic, the Lawrence Opera Works, Kasey Yeargain, Elaine Fox, the University of Missouri-Kansas City Conservatory of Music and Dance, the Dennis Winslett Ensemble, Wayne Hawkins, the Amalgam Percussion Ensemble, Rhythmic Flames, Clandestine, Monique Danielle, VibeTribe KC, the KC Drum Tribe, the Sadikov String Quartet, Nathan Granner, Washburn Opera Studio, Eddie Delahunt and more. Truly something for everyone!
Plan on arriving in plenty of time to park and walk to the venue—it's sure to be a popular event.
If you've not yet made plans to participate in WaterFire, do it now. And if you've already made other plans, change them! This is truly an event you won't want to miss—and an experience you'll be ever grateful to have been a part of. And all this? It's free. Now go and enjoy it!
And if you're feeling especially generous, know that Brush Creek Community Partners is responsible for putting on this event and for soliciting sponsorships and donors throughout the community. If you're interested in making a tax deductible donation, you can do so through their affiliation with the Greater Kansas City Community Foundation.