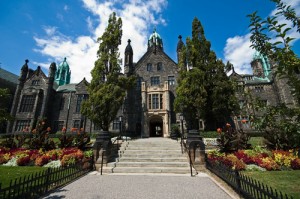 There's no denying that the engineering industry continues to evolve quickly — and to keep pace with technology, innovation and other pertinent factors, the University of Toronto is in the midst of a $200 million campaign designed to "nurture a new generation of engineers," according to the university.
The campaign kicked off in mid-September with an "Afternoon of Engineering Innovation," an event that included industry panels, lectures and student exhibits. Speakers also outlined why this campaign is so important and what campaign organizers hope to achieve once they've raised the proposed funds.
"This campaign will engage our global network of alumni and friends to build a preeminent faculty that will nurture the U of T world-class engineer of tomorrow," Professor Cristina Amon, Dean of the Faculty of Applied Science & Engineering, said in her address.
More specifically, U of T's campaign plans to address five areas of focus:
Developing global engineering leaders
Nurturing engineering innovation and entrepreneurship
Revolutionizing biomedical engineering and human health
Advancing information communications technology
Reshaping the future of energy, the environment and sustainability
One of the most significant results of the completed campaign will be the construction of the Centre for Engineering Innovation & Entrepreneurship, a state-of-the-art facility that's expected to become "a landmark building" at the university.
For a peek at a recap of the campaign's kick-off, check out this video from the University of Toronto.
As a company that prides itself on training and enabling world-class engineers to deliver innovative solutions, we're excited for the University of Toronto as it embarks upon this important journey to better educate and serve tomorrow's global engineering leaders.
Best of luck to all involved. We'll definitely be keeping an eye on your progress!
Image via the University of Toronto