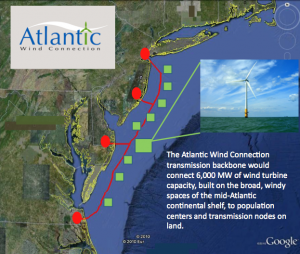 As more utilities consider harnessing the power of the wind as a renewable energy source, The Atlantic Wind Connection Project is not only a model of efficient power collection but also scalable infrastructure that can easily be expanded to accommodate additional offshore wind energy.
Learn more about The Atlantic Wind Connection Project during our upcoming Game Changers webinar, to be held at 2 p.m. ET on November 27. Paul D. McCoy, principal of Atlantic Wind Connection, will offer an inside look at the project, a sub-sea high voltage direct current (HVDC) backbone transmission system extending from northern New Jersey to southern Virginia. He'll be joined by our own Mike Beehler and John McDonald, PE, director of technical strategy and policy development at GE Digital Energy, for an in-depth discussion about the project.
The Atlantic Wind Connection Project collects alternating current (AC) power from offshore wind farms and relieves transmission congestion on the eastern AC grid. When the project is complete, it will be able to connect up to 7,000 MW of offshore wind, enough power to serve 1.9 million households. Plus, the system is scalable, which means it can easily be expanded as the industry continues to develop.
Because the Atlantic Wind Connection Project uses HVDC technology, integration is easier — and the system allows for the control of multiple wind farms while avoiding the electrical losses associated with more typical high voltage AC lines. With this strong backbone in place, larger and more energy-efficient wind farms can connect to offshore power hubs farther out to sea. These power hubs will, in turn, be connected via sub-sea cables to the strongest, highest capacity parts of the land-based transmission system.
Register now to secure your spot for this 60-minute webinar. And if you can't join us on November 27, the presentation will be available on demand.
The Game Changers webinar series is the result of a partnership between Burns & McDonnell, GE and Transmission & Distribution World magazine. Topics this year have included 3D substation design, electric vehicle charging stations and sustainable substation design.
If you're interested in exploring more grid- and utility-related topics, check out our 2011 Game Changers series, which is also available on-demand. You'll have access to nine episodes that explored innovative technologies and ideas that are changing how power is delivered and used. Topics included Large Battery Storage, Smart Metering/Advanced Metering Infrastructure, Asset Optimization and Uniting Utility Operations and IT for Smart Grid Success.
This year's Game Changers series will run through next month. If you have any questions, please feel free to contact our event coordinator, Kim Mulkey.
Image via Google