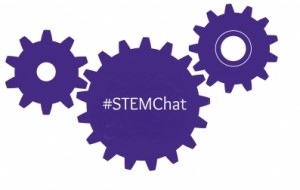 As engineers, it's no surprise that we're passionate about all things STEM (science, technology, engineering and math). And what's more, we're equally invested in giving kids the resources they need to not only explore STEM curriculum in school, but also consider STEM careers.
We recently stumbled on #STEMChat, a monthly Twitter chat devoted to all things STEM. It's already become a must-attend event. Moderated by Kim Moldofsky, also known as The Maker Mom, #STEMChats are "designed to bring parents, educators and STEM professionals together to share resources and ideas to raise STEM-loving kids," according to The Maker Mom.
The lively, fast-paced chats include discussions about various STEM-related topics. Past chat themes have included Tweens and Engineering, Libraries as MakerSpaces and How to Raise Kids Who Love Math.
Mark your calendar now for the next chat, December 11 at 9 p.m. EST. The theme is Hack-y Holidays, so be ready to dive into the gloriously geeky side of the season! And if you're worried that you'll forget about the chat, sign up to receive monthly email notifications the day before each chat. Plus, you'll also get a link to a recap of last month's chat and links to top blog posts from The Maker Mom, all of which are great resources to keep you dialed into the wonderful world of STEM.
Beyond monthly #STEMChats participation, you can get involved in other ways, too. Have a topic you'd like to suggest? Drop Kim a line. Or, if you'd like to be considered as a STEMChat panelist, simply fill out and submit this form.
If you haven't participated in a Twitter chat, get ready — they're fairly fast-paced! We recommend using a service like TweetChat to easily keep pace with the action. Sign in using your Twitter account and specify the hashtag you want to follow — in this case, #STEMChat. TweetChat will automatically filter any tweets using that hashtag so that you can focus solely on the conversation at hand. Plus, TweetChat will automatically add the applicable hashtag to your tweets, so you can focus on interacting with other chat participants.
Whether you're a parent, educator, STEM professional or simply interested in all things STEM, #STEMChat is not just a great source of information. You'll also find a knowledgeable network of people with whom to connect. Make plans to check out December's event, and look for us — we'll be there!
Image via The Maker Mom