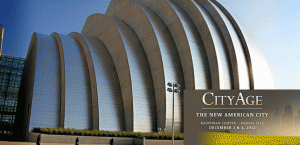 The two-day CityAge summit, designed "to amplify new ideas in business, government and society," is the perfect place for Burns & McDonnell to unveil an innovative new technology tool, PublicWay.
The proprietary, web-based tool is designed to help public sector authorities coordinate and manage all activities related to use, construction and maintenance of public rights-of-way and thoroughfares. Developed exclusively by Burns & McDonnell, PublicWay was initially designed to assist the Kansas City, Mo., Water Services Department in its efforts to coordinate a 25-year, $2.5 billion project to reduce and eliminate overflows of contaminants into the metropolitan sewer system.
Why introduce PublicWay at CityAge? The event serves as a forum to discuss the "New American City," and innovative new technology designed to efficiently and cost-effectively solve metropolitan challenges is a key part of any thriving city.
Our own Wes Hardin, information technology manager, and Ron Coker, vice president and general manager of Burns & McDonnell's Water division, will be at CityAge on Monday, December 3, to introduce PublicWay and discuss its unique features and benefits. They'll show how PublicWay integrates and coordinates construction schedules and other data on its exclusive web-based platform, allowing the general public to see all available information about projects that could pose a disruption to traffic or other critical services due to construction along city streets and other public access points.
"We are excited to have the opportunity to show public leaders throughout North America how PublicWay can help solve some of their most difficult project management issues," said our CEO, Greg Graves. "The CityAge conference will generate a lot of conversation about how urban centers will be the leading generators of job growth and economic development in the 21st century. Part of that conversation needs to be focused on how the work gets done. PublicWay will be instrumental for many public sector managers as they are searching for better tools and processes to demonstrate that public resources are being used wisely."
Interested in learning more about PublicWay? Tickets are still available for CityAge — register now to secure your spot. Leaders from around the country are headed to Kansas City to explore and develop partnerships between business, decision makers and thought leaders, and this is a rare opportunity to not only listen to these inspiring conversations, but also be a part of them, too.
If you're headed to CityAge, stop by and say hello.