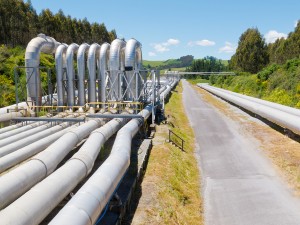 If you work in or with the power industry, there's a good chance you're headed to Orlando for this year's Power-Gen conference, an annual event that presents new industry solutions and innovations. And if you're keeping a close eye on the paradigm shift from coal-fired to natural gas-powered resources for baseload generation, make plans to attend a Power-Gen presentation by our own Mike Borgstadt at 1:30 p.m. on Tuesday, Dec. 11.
As the manager of resource planning within Burns & McDonnell's Business & Technology Services group, Mike has developed in-depth knowledge of the energy consulting industry. He'll draw on his experience with integrated resource planning and environmental compliance assessments, among other areas, to explore the increasing reliance on natural gas-fired resources in the wake of numerous coal-fired power plant retirements.
This ongoing shift is expected to affect not just the power industry, but also areas like transportation, too. Although the supply of natural gas is sufficient, questions remain about the existing natural gas infrastructure and whether or not it will support such a large shift in the generation portfolio.
Throughout his presentation, Mike will provide a review of the predicted level of coal-fired power plant retirements and how those retirements may impact and stress the existing natural gas infrastructure. Additionally, he'll address the following topics and questions:
An overview of existing natural gas consumption (including competing resources) and infrastructure.
The expected level of coal-fired power plant retirements due to proposed and finalized EPA regulations.
The expected level of increased natural gas generation replacing coal-fired generation and load growth.
The expected increase in natural gas consumption due to natural gas-fired power plants replacing coal-fired units.
Interested in learning more? Be sure to join Mike at 1:30 p.m. on Tuesday, Dec. 11, in room S320C. And while you're at Power-Gen, look for us and say hi! We have several employees giving presentations and speaking on panels, so stay tuned to the blog for a look at their discussion topics to help you plan your Power-Gen agenda. See you in Orlando!