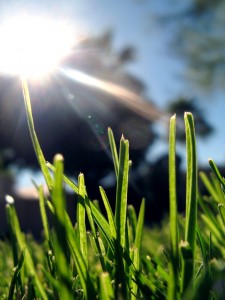 When we talk about sustainability, one of the first things I think about is green grass in the dead of summer. The demand created by the quest for a lush green lawn essentially requires that water treatment plants have the ability to treat to the irrigation demand, which is far greater than the consumption demand. Typical utilities will see peak demand of five to seven times greater than winter usage.
The smell of fresh-cut grass will always remind me of my youth and summer. I grew up on the East Coast, where grass would grow, whether you wanted it to or not. In the spring, the mower was running every five days to keep control of the jungle.
I now live in the middle of the high desert plains, where the semi-arid grasslands have been replaced with irrigated lawns and trees over enormous suburban expanses. This part of the United States was just about treeless until Americans came along. Farming was the main driver for irrigation, which inspired stunning civil projects to convey water across the continental divide and into areas where it had never been before. Battles were fought, laws were written, and court cases rage on over the right to use the water. Urban developments and cities demand more and more water, reducing the amount of farmland to allow more development.
It's hard to blame anyone for changing the landscape while enjoying the beauty that comes with the green. Understanding that lawns are here to stay, the focus moves to making turf irrigation more sustainable. For most homeowners, watering lawns and gardens accounts for at least 50% of water consumed. Amazing, isn't it? Typically, water used for keeping lawns green is the same potable water that we drink from the tap. It's common for household potable water consumption to quadruple in the summer. This creates tremendous demand on water treatment plants, which must have the ability to treat far greater volumes of water. In short, more water is needed for watering lawns than for drinking, bathing, cooking and flushing.
But there is a solution. More and more communities have converted to non-potable irrigation for public green areas. In many cases, the public doesn't even realize this is being done. The benefit is enormous in that it frees up capacity at the water treatment plant and saves on treatment costs. In many cases, the water being used is raw source water that typically would be treated for drinking or lower quality water that is more difficult to treat. In other cases, wastewater collected through the community sewer system is treated to a reuse standard — lower than drinking water standards. Purple sprinkler boxes are the giveaway to tell you that reuse water is being used.
Non-potable water irrigation is a growing practice that is here to stay. From the standpoint of supply and demand, our water supply is limited, and the demand will likely never go away. Particularly as water treatment plants improve the quality of water they produce and wastewater treatment plants improve the quality of effluent they discharge, reuse becomes a more attractive option.
All this effort to move, store and treat water is essentially to allow us to grow grass. What do you think? Is green grass worth the cost?
Andrew Waddoups, P.E., is a Senior Project Manager for Burns & McDonnell in Centennial, Colorado. His background includes a degree in Bio-Resource Engineering from Rutgers University. Andrew primarily focuses on water and wastewater treatment plant design and construction--however, he also has diverse project experience. Andrew also volunteers as an Engineering Without Borders technical advisory committee member.
Image by Kevin Dooley via Creative Commons