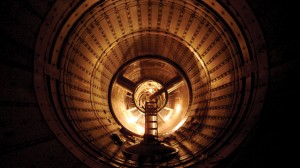 This week marks the start of Power-Gen, an annual conference that unites power industry professionals and stakeholders to share, discuss and examine new industry solutions and innovations. We're excited to have a number of Burns & McDonnell employees giving presentations and participating in panel discussions, including Chris Ruckman and Rich Mahaley, who will discuss "Gas Turbine Technology Advances: Large Combustion Turbine Blackstart Considerations" at 9:30 a.m. on Dec. 12.
Chris and Rich, both of whom are department managers in our Energy Group, will examine the use of large combustion turbines and how they play a key role in creating an efficient and timely system restoration process. In the wake of blackouts like the 2003 Northeast blackout and more recent events in Japan, a renewed emphasis has been placed on developing a better restoration process — and that includes large combustion turbines that are connected directly to higher voltage transmission systems in lieu of smaller units such as hydro and diesel engines that are more typically connected at the distribution level.
During their presentation, Chris and Rich will discuss the process for assessing the viability of a new or existing large combustion turbine generating facility for blackstart service, including key mechanical and electrical considerations and often overlooked plant auxiliaries.
Additionally, they'll discuss starting methods and design criteria for various large combustion turbines in both simple and combined-cycle configurations after a system blackout and draws knowledge learned from successfully implementing blackstart on a combined-cycle facility with General Electrical 7FA machines.
If this discussion is relevant to your company and industry, make plans to join Chris and Rich at 9:30 a.m. on Dec. 12 in room S320F as part of track 8. And while you're at Power-Gen, look for us and say hi. See you in the Sunshine State!