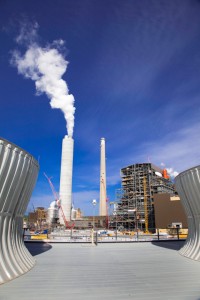 This year's Power-Gen conference in Orlando is a prime time to examine industry trends, issues and solutions. And as part of the latter category, our own Jason Eichenberger will present on "Water Regulatory Compliance and Operations — Water Supply Development for KCP&L's Iatan 2" at 1:30 p.m. on Dec. 12.
The Iatan 2 project, near Weston, Mo., is one of the largest, cleanest and most efficient coal-fired power plants in the country. It's also KCP&L's first baseload power generator to be installed in nearly 30 years and is up to 12 percent more efficient than typical coal-fired units.
Jason, a senior civil engineer in our energy group, will share more about the evaluation of water supply options for Iatan 2, a discussion that led to the implementation of a collector well for water supply instead of a direct Missouri River intake.
Since Iatan 2 became operational in fall 2010, the collector well has supplied 100% of the plant water needs. Continuous pumping has induced infiltration from the Missouri River and resulted in reduced iron concentrations in the water supply as the pre-filtered river water has replaced ambient ground water.
Collector well technology didn't just prove to be the best fit for the Iatan 2 project — it's a growing trend in the power industry, too. This presentation is an ideal opportunity to learn more about industry best practices and get details about design, construction and operation of the Iatan 2 well.
Jason will present at 1:30 p.m. on Dec. 12 in room S320B as part of track 3. He'd love to see you, so be sure to add his presentation to your Power-Gen agenda. And while you're at the conference, be on the lookout for us and say hi. We can't wait to head to Orlando!