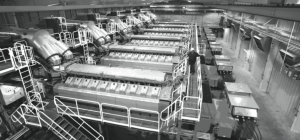 One of the reasons we're most excited to attend Power-Gen this week (well, aside from catching up with a lot of great people) is an opportunity to listen in on a number of interesting discussions. One that's on our radar? "Flexible Capacity Options for Renewable Integration," during which a panel of knowledgeable industry speakers will discuss the increasing need for power system flexibility and the impacts of renewable energy integration.
Our own Tom Graves, senior analyst in the Business & Technology Services Group, will join David Brewster, CEO of EnerNOC, John Zahurancik, vice president of The AES Corporation, Joseph Ferrari, market development with Wartsila North America, Inc., Rob Coulbeck, vice president of regulatory affairs for Enbala, Russell Young, senior marketing manager with GE Energy Power Generation Services and session co-chairs David Walls, director of Navigant Consulting and Mikael Backman, director, market development for Wartsila North America, Inc., for the panel discussion, which will be held at 9:30 a.m. on Dec. 12 in room S320D.
The discussion will include an examination of a variety of technical and market options for meeting flexibility needs, including combustion engines, storage, demand response, and combined cycle approaches. Additionally, the discussion will include perspectives of both market participants and independent system operators.
Panel discussions like this are a great way to not only hear from a variety of speakers, but also stay tapped into the issues and technology affecting the power industry and collect a host of best practices and insight that you can use on your own projects.
We're proud to have several employees participating on panel discussions and presenting at this year's Power-Gen show, covering a variety of topics that range from mitigating environmental confrontation to gas turbine technology advances. Whatever your industry, focus or interests, you're sure to find a wealth of information at Power-Gen, and we can't wait to hear what you think of the event.
Headed to Power-Gen? Let us know what's on your must-see list. We're going to try to attend as many presentations and panels as we can — it's going to be a whirlwind of a week!