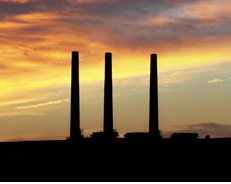 There's no denying that this year's Power-Gen conference includes a number of hot topics, and coal-fired plant retirements are among them. Not only are they becoming more widespread throughout the country — they're also introducing a need for innovative solutions to help make the retirement process more efficient, both in terms of time and required resources. If you're interested in learning more about this industry landscape that's rife with both difficulties and possibilities, make sure "Coal Plant Retirements — Challenges and Opportunities" is on your must-attend list.
The panel discussion kicks off at 10 a.m. on Dec. 13 in room S320G. Our own Joey Mashek, business development manager in the Energy Group, will co-chair the discussion with Peter Belmonte, PE, partner, Environmental Resources Management. Participants include Jeff Kopp, manager of project development, Burns & McDonnell; Ed Malley, vice president, TRC Companies Inc.; Brad Yoho, director, Governmental Compliance and Budgeting, American Electric Power Co.; Robert Klotzbach, principal partner, ERM; Michael Marcheschi, vice president, preconstruction, LVI Services; and Michael Rutkowski, managing director, Navigant.
Throughout the panel, participants will explore the challenges, decisions and opportunities these coal-fired retirements represent. Companies across the country continue to target a number of coal-fired generating units for retirement, resulting in an increasingly complex landscape as generators grapple with both challenging market conditions and looming federal clean air regulations. Additionally, extremely low natural gas prices coupled with weak electricity demand have made the decision-making process even more complex, which has caused many power companies to make their exact retirement timelines subject to factors like market conditions.
We're certainly looking forward to the insight and opinions that will be shared during this discussion. If your company or industry is affected by coal-fired plant retirements, we hope you'll join us.
We hope you're enjoying this year's Power Gen event — we sure are!