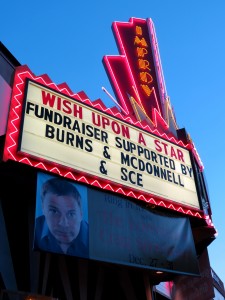 The holidays can be a tough time of year for families who struggle to make ends meet. And when you add the emotional and financial burden of a chronically-ill child to the mix, it becomes even more so. But thanks to the big hearts of several employees from Burns & McDonnell's Southern California office, we were able to brighten this holiday season for two families.
In early December we teamed up with Southern California Edison for a talent show fundraiser benefiting the Holidays from the Heart program at Children's Hospital Los Angeles. The program serves families who are financially unable to provide for themselves and their children during the holiday season.
Our own Phil Stephenson has been involved in the program personally for 16 years, and says that while it's a great feeling to help these families, it can be a roller coaster of emotions. "Many times we see children conquer their illness and fully recover, but for some this might be the last holiday these children get to spend with their families," Phil says. "Even though we can't fix their situation, this is our opportunity to provide joy in a difficult time."
The talent show featured employee-owners reaching outside of their comfort zones to entertain with singing and dancing, storytelling and—if you caught the "Miniature" Dance Troupe—some much-needed laughs. Check it out.
All proceeds from the event—more than $6,300 in cash and gifts—went toward fulfilling the wish lists of two families in the hospital's oncology department. The families, who have children diagnosed with malignant brain tumors, weren't asking for G.I. Joes or Barbies but instead necessities like coats, shoes and socks, groceries and cleaning supplies.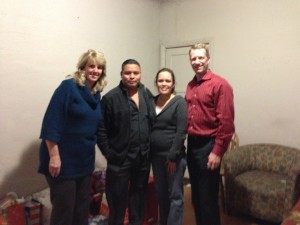 On Tuesday, a group of employees presented the families with the items from their wish lists and witnessed the joy firsthand. "We were graciously welcomed into the home of a little 3-year-old boy whose father received our gifts with great strength, humility and kindness as his son received chemotherapy at the hospital for his brain tumor," says Burns & McDonnell's Donna Webb, who played a key role in organizing the event. "Words cannot express the love and warmth we felt as we left there."
Others from Burns & McDonnell echoed her sentiments. "It was a true blessing to have been part of the gift delivery," says Judy De La Cruz, who helped deliver the gifts. "From the moment we reached the home and greeted the boy's father, it was clear the need this family is in for basic necessities and was a true reminder of why we did this in the first place. I can't express the satisfaction I left with, knowing that our efforts could bring a little joy and hope to a family that is challenged on so many levels. It is a reminder of how blessed and lucky we are, and motivation to work even harder for next year's show."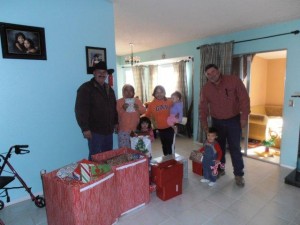 But perhaps the best compliments of all are the ones that come on behalf of the families. "They were so incredibly happy and touched by your visit and gifts," says Karla Garcia, a social worker at the hospital. "Mom came upstairs later in the day to tell me how she had not yet seen everything, but that dad had described that there was an abundance of gifts and cards. She was teary when she told me about it. Thank you!"
To us, that is what the season is really all about — giving and spreading joy to others.
A special thanks to
Brea Improv
for providing a top-notch venue for the talent show and to everyone who helped us make this event a success and bring joy to two deserving families this holiday season.