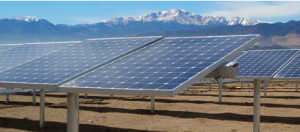 Solar power continues to be one of the fastest-growing sources of renewable energy. So fast, in fact, that this year alone, the amount of solar energy produced in the U.S. rose 500 percent.
And although 2012 was an undeniably impressive year for solar power, the last five years have proven pivotal in accessibility and use. Take a look at these fascinating facts compiled in an infographic that we found via our friends at Brightergy Solar Solutions, a Kansas City-based company focused on design, installation and financing services for commercial solar electric systems.
In five years, the price of solar panels dropped from $3.37 per watt to 70 cents per watt.
Cumulative U.S. solar installations grew from 500 megawatts in 2007 to 7,200 megawatts in 2012, a 1,400% increase.
Thirty-seven states have installed more than 1 megawatt of solar energy, compared to 10 states in 2007.
More than 119,000 workers are now employed in the solar industry across the U.S.
A whopping 92% of Americans agree it's important to use and produce more solar.
Because solar energy is becoming more prevalent in the U.S. and throughout the world, it's now more accessible and affordable, too. And that means it's becoming a viable solution for both residents and businesses, setting the stage for even more widespread use in the coming years.
As a result, researchers are focused on creating innovative solar solutions. Consider a recent success story from Stanford University, where a team of researchers developed thin-film solar cells that can be adhered to surfaces like a sticker. These peel-and-stick solar cells work on glass, paper, plastic and some metals, creating a host of new applications that could include bike helmets, cell phones, curved roofs and more.
Given achievements like these, coupled with stats that speak to solar power's increasing growth, and is it any wonder that the future of solar's so bright, we gotta wear shades? Sorry — that was impossible to resist!
Where are you and your business on the solar front? We'd love to hear your stories.