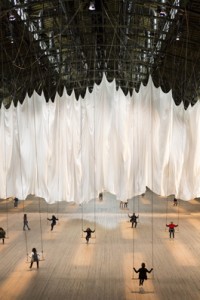 Art and engineering can each create some amazing things—and when the two combine, the results can be even more awe-inspiring. Consider a recent installation from artist Ann Hamilton, "the event of a thread," which invites not only whimsical play but also a sense of communal participation.
Commissioned by the Park Avenue Armory (643 Park Avenue, New York), the installation includes over 40 swings suspended from trusses in the Wade Thompson Drill Hall. The swings control a large cloth curtain that divides the space. As people swing, the cloth is animated, creating a sense of "communal connectivity."
As Roberta Smith writes for the New York Times, "In addition, if you paused in your swinging, you could feel the rest of the interconnected system pulse and gyrate, a momentary demonstration—at once silly and profound—that we are, indeed, all connected."
The exhibit also uses audio to create a full sensory experience. Two readers seated at the exhibit's entrance read aloud and their voices are broadcast throughout the space. Visitors are also given radio receivers that they can use to listen to the voices as they enjoy the installation. Throughout the duration of the exhibit, a writer inscribes responses to the radio transmissions, creating a record of the experience.
"Hamilton's installation will draw together human actions—including speaking, singing, reading and writing—with the poetic potential of physical forces, such as velocity, time and sound," says Kristy Edmunds, consulting artistic director at the Armory. "Weaving together these threads of activity and spatial exploration, Hamilton's work will envelop the visitor with a demonstration of collective identity and interconnectedness."
If you're in the New York area this week, make plans to experience this impressive exhibit, open now through Jan. 6. And if you can't make it, live vicariously through this video that offers a peek into the installation.
We don't know about you, but this makes us long for the days of recess! If you're able to attend, feel free to stop back by the blog and let us know what you thought.
Image via Park Avenue Armory