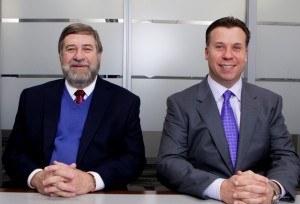 A new year brings big changes for Burns & McDonnell as we say farewell to Walt Womack (pictured at left), board member and president of our Transmission & Distribution (T&D) division.
Walt's retirement comes after a 42-year career at Burns & McDonnell. He began as an engineer designing high-voltage substations, worked his way through business development and eventually landed in general management when he was appointed to lead the newly-formed T&D division in 1994. Since that time, T&D has experienced rapid growth, expanding to more than 650 employees in 20 offices across the country and is currently ranked as the nation's largest T&D engineering firm by Engineering News-Record.
"In his 42 years here, Wally has truly been the leader we have all looked up to," said Greg. "His counsel and business sense have been just what we needed during every stage of our growth and his mentorship to dozens of young engineers, including me, means that the Burns & McDonnell culture is deeply rooted in everything we do."Along the way, Wally (as he's better known), mentored many of our company's leaders and helped them grow into who they are today, including our CEO Greg Graves.
And, according to Greg, he has put the right foundation in place for his successor, John Olander (pictured above at right) to carry on his legacy.
"Our success and the industry recognition the T&D group has received is more about what Burns & McDonnell does as a whole than about what T&D has done," said Wally. "Every employee-owner at Burns & McDonnell has contributed to our success because everyone is focused on doing whatever it takes to serve our clients. I've had a great ride and now I'm excited to turn the keys over to John because it's his time."
John, who assumed the responsibility of T&D general manager at the start of the new year, has been with Burns & McDonnell for 22 years — 18 of those years in T&D. He's lead some of the largest, most challenging engineer-procure-construct (EPC) projects in Burns & McDonnell's history, all of which helped him land his current role of vice president.
John has big shoes to fill, but he's confident in his ability thanks to Wally's guidance. "The only way you can follow a leader like Wally is to follow his example of humility and service and remember that the best way to lead is to hire great people and get out of their way. Wally set the standard and now we just have to carry on with what he started."
Please join us in wishing Wally nothing but happiness in his retirement and John much success as he takes the helm of our largest division. Congratulations and best of luck to you both!