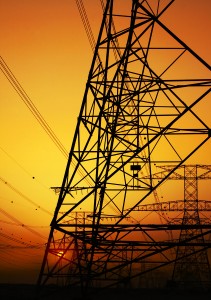 From new tools and platforms to updated techniques and processes, technology has had an undeniable impact on nearly every industry. In an effort to more closely examine how technology is changing the transmission and distribution industry, Burns & McDonnell is proud to team up with Transmission & Distribution World magazine to host the Advanced Technology Series of webinars.
Join us at 2 p.m. ET on January 17 for the first webinar in the series, Dynamic Line Rating. Lindsey Manufacturing Co. will discuss how they developed and deployed (with their partners at Idaho National Labs) a new Transmission Line Monitor for EHV lines. The monitor uses onboard LiDAR to measure conductor ground clearance, as well as other sensors to measure factors like conductor temperature, tilt, roll and conductor vibration.
Data from the TLM is then transmitted via mesh network radio to an end point computer. This information is used to manage congestion problems on transmission lines and, when combined with weather and line loading data, creates algorithms created by Lindsay's partner, MWH, to calculate day-ahead line capacity.
These new forecasting tools not only allow the utility to increase line capacities, but also allow continuous monitoring of the line to maintain NERC compliance. During the webinar, you'll have an opportunity to get a closer look at this TLM technology.
Register now and secure your spot — we'd love to have you! The Advanced Technology Series will continue through November. Here's a look at upcoming topics:
March: Smart Wire Grid on Distributed FACTS (Flexible Alternating Current Transmission System)
May: Composite Core Conductors
July: CRUX on Micropiles and Steel Pile Caps
September: EHV Cable Systems
November: Automated Aerial Patrol Makers
We'll have more information about each webinar before the event date, so be sure to subscribe to the blog so you don't miss an update.
If you have any questions about the series, feel free to contact our events coordinator, Kim Mulkey. We hope you'll listen in on January 17!