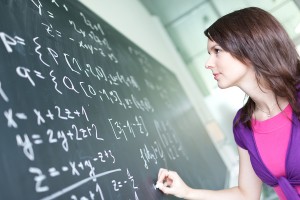 Navigating a career path can be tricky for any young person, which is why mentors are a valuable source of information and advice. If you are or know a female student who's interested in pursuing a STEM (science, technology, engineering and math) career, now's the time to apply for the Huffington Post's STEM mentorship program, which will pair high school- and college-age girls who have an interest in science and engineering with female leaders in these fields.
Rebecca Searles and Brittany Binowski, representing The Geek Girls of HuffPost, describe the program: "Want to know what gets an analytical chemist fired up about her work? Want to learn how the developers of sites like Facebook and Twitter got where they are now? Maybe you've been taking apart cars since you were 10, and you aspire to become an automotive engineer. Whatever curiosities strike you, our STEM mentors (in any and all fields) are here to help you explore your interests."
To be considered for the program, fill out an application in which you'll share more about your background and specific science interests. Based on that information, you'll be paired with a female scientist, engineer or science writer. From there, HuffPo says "it's up to you how much or how little you use the resource at your fingertips. We strongly encourage that you email, video chat and by any means pick the brain of your selected mentor as much as possible." Plus, mentor and mentee will be asked to document their experience by blogging for the Huffington Post.
So what are you waiting for? If you're a female student aged 14 to 21, apply now! Applications are due January 31 and the program will end April 30. And if you do end up participating, please swing back by the blog and let us know how it goes. We'd love to read about your experiences on the Huffington Post, too, so feel free to share a link to your blog in the comments!