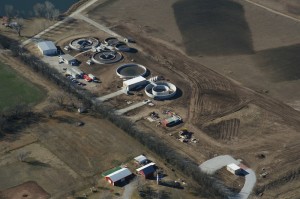 Wastewater treatment is a complex process, and one that varies depending on factors like usage rates, facility location and treatment types, to name a few. A recently expanded wastewater treatment facility in Mulvane, Kan., is a prime example of a wastewater project that not only needed to be completed quickly, but also one whose initial scope of work evolved as subsequent assessments revealed additional considerations to address.
An unprecedented economic development opportunity resulted in the need for an expanded wastewater treatment facility for Mulvane. The small community (population 6,100) landed a $260 million casino development — and in order to serve the new gaming facility, several of the city's utility systems needed to be upgraded.
Initially, the understanding was that Mulvane's existing wastewater system had adequate capacity to support the development. A more thorough assessment, however, revealed that high-strength pollutants could exceed the design pollutant loading of the wastewater treatment plant — and that's when the city of Mulvane called on Burns & McDonnell and Topeka, Kan.-based CAS Construction LLC to design and construct wastewater improvements under a fast-track design-build contract that included services such as primary treatment, flow equalization, biological nutrient removal, secondary biological treatment expansion and value engineering.
The project was completed in the allotted timeframe of seven months and, in fact, was finished in such a timely manner that project teams could accommodate an earlier flow acceptance date to complete testing for the casino's certificate of occupancy.
Thanks to the timely completion of the treatment facility's first phase, Peninsula Gaming and the City of Mulvane awarded the project's second phase to Burns & McDonnell and CAS Construction LLC in early 2012, and we're thrilled by the continued opportunity to enhance and improve what will no doubt be an important component not just of the city's utility system, but also the resulting economic development spurred by the new casino.
Others have recognized the success of the Mulvane plant improvement projects as well. The first phase of the project has won a number of awards, including:
We're grateful to our employees, as well as the CAS Construction LLC team, for contributing to this project's success. It's stories like these that make us so incredibly proud not only of what we do, but also of the people who are critical to a project's completion. Congratulations to all involved!