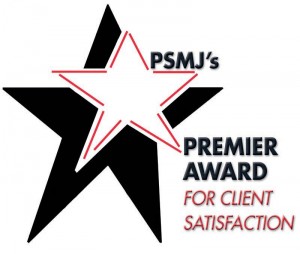 Regardless of the industry in or companies with which we work, one of our top priorities is helping our clients solve problems by delivering timely, cost-effective solutions. Because our dedication to our clients means so much to everyone at Burns & McDonnell, it was an honor to learn that we're one of eight architecture, engineering and construction firms to receive the 2012 Premier Award for Client Satisfaction — and one of only two A/E/C companies to win the award for three consecutive years.
Now in its third year, the PSMJ Premier Awards competition includes dozens of firms throughout the U.S. and Canada. Clients were given surveys that asked them to rate performance in seven categories: helpfulness, overall value, responsiveness, budget management, quality, accuracy and managing schedules. Once the results were tallied, winners were determined based on the quality of feedback and quantity of replies.
Additionally, survey participants were asked whether or not they would recommend the firm to their colleagues, which generated a piece of data known as the Net Promoter Score. Burns & McDonnell, at 81 percent, scored well over the market sector average of 56 percent.
"We are proud to be recognized by our clients for our commitment to exceptional service," said Greg Graves, our chairman and CEO. "We have 3,700 employee-owners who take pride in their work, on projects large and small, and it is rewarding to see that dedication to our clients' success is appreciated."
It's an honor to receive this award, but one of our favorite things about it is reviewing the survey results and seeing comments like these:
"… Their work ethic, 'can-do' attitude and resources make them hard to beat."
"… Patient, attentive to our needs and sensitive to challenges in completing the work."
"… (Burns & McDonnell) has the ability to look at the entire solution, not just a piece of it."
"Burns & McDonnell has helped (us) become a leader in the integrated reporting space, and their thoroughness, attention to detail, knowledge, skill and project management has helped us continue to get better year after year. I would not want to take this reporting journey without them!"
"Professionalism is Burns & McDonnell's middle name. Do it right the first time: save time and energy. This is exceptional when you have 20 deadlines to meet and last-minute changes to incorporate. Burns & McDonnell never falls behind."
We're just one month into the new year, and 2013 has already proven to be an exciting one for all of us at Burns & McDonnell — so much so, in fact, that we can't wait to see what the rest of the year brings! Thank you to all of our talented employee-owners for making recognition like this possible. And to the other PSMJ award winners, congratulations!
Image via PSMJ