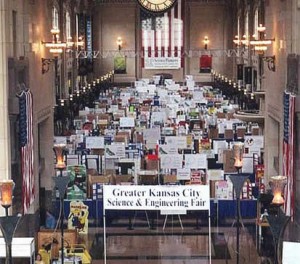 Calling all science fans! Science Pioneers is looking for people to help judge the 62nd Greater Kansas City Science and Engineering Fair at Union Station. If you're free for a few hours on Wednesday, March 13, consider volunteering your time to help inspire the next generation of science, technology, engineering and math (STEM) professionals.
The Greater Kansas City Science and Engineering Fair is the area's largest science fair with more than 1,400 students from grades 4-12 participating. It's organized by grade level and students compete in categories like behavioral and social sciences, botany and zoology, molecular biology, chemistry, earth and space science, engineering, environmental science and renewable energy, matter and energy, force and motion, computer science and mathematics, and inventions. The top three senior-level projects will go on to compete at the Intel International Science and Engineering Fair in Phoenix, May 12-17.
So who can be a judge? Just about anyone. Past judges have included scientists, engineers, physicians and teachers. All you need is an interest in science and engineering and a few free hours (6-9 p.m.) on March 13. Judging teams will be made up of new and veteran judges. And if it's your first time, don't worry. Science Pioneers offers training for new judges later this month. This is a great opportunity to support STEM education initiatives in the Kansas City area and to see the work of some innovative, creative and just plain smart students. And if that's not enough, dinner and parking vouchers are provided for all judges.
Sound like something you're interested in? Email Shea O'Riley for details and a copy of the Judge Response Form. Applications are due by February 15.
If you're not able to judge but still want to check out the event, the science fair will be open to the public on March 14-15, and the winners announced on March 16. And while you're at it, be sure to check out the other great volunteer opportunities available with Science Pioneers.