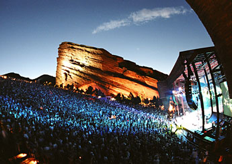 While Colorado's ski slopes make it one of the country's premier winter vacation destinations, Denver is truly a great place to visit no matter the season. With 300 days of sun a year and breathtaking landscapes, there is no shortage of great things to do, especially if you love the outdoors. We asked our team here in the Burns & McDonnell Denver office their favorite things to do in Denver and here's what we came up with.
Red Rocks Park & Amphitheatre. Head west toward Morrison and you'll find a geological phenomenon — the only naturally occurring, acoustically perfect amphitheater in the world. In addition to open-air concerts, Red Rocks also hosts Film on the Rocks on select nights from May through August. Its scenic nature also makes it a great place to jog or work out. For the extreme fitness enthusiast, try an It Burns Joe Fitness boot camp and join one of the top fitness groups in the country with over 11,000 members. The free sessions last three hours and require no registration.
South Pearl Street Farmers Market. For a casual Sunday morning activity, head to the South Pearl Street Farmers Market. With 60 vendors to choose from, treat your palate to fresh produce, pastries, breakfast tacos, kale smoothies, Slovenian nut rolls or even a gourmet elk hot dog. And there's more than food: get a massage, shop for some natural goat's milk soap, or visit the personalized poem writer.
Park it. Visitors are always amazed by Denver's bustling parks. Washington Park, better known as Wash Park, is the sportiest park in Denver and features almost every kind of recreational activity. Grass volleyball is extremely popular, and it's not uncommon to see as many as 70 nets set up with games going. With both paved and dirt trail options, you'll find a plethora of runners, bikers, roller bladers and longboarders. The park also offers a recreation center, boathouse, tennis courts, basketball courts and two playgrounds. Another popular park is City Park. At 6 p.m. every Sunday in the summer, the park hosts City Park Jazz, a free jazz concert that regularly attracts thousands of guests. Daniels Park is more remote and south of the city, but it's a great spot to grill dinner and catch an amazing sunset with views of the entire Front Range, downtown and the Denver Technological Center. You may even see herds of buffalo if you're lucky.
Denver Cruisers. The Denver Cruiser Ride is one of the best ways to immerse yourself in the city's massive bike culture. Every Wednesday night from mid-May through September, hundreds of bicyclists gather at various predetermined bars and then converge at a centralized ending point to socialize. Focused on fun, this event is more about spectacle than riding ability. Each week riders dress for a theme ranging from Space Invaders to disco to slumber party.
First Friday Art Walk. If your visit happens to coincide with the first Friday of the month, consider yourself in luck. From 6-9 p.m., Denver's Art District on Santa Fe features 60 participating galleries, artist studios and restaurants. Wander freely from place to place sampling wine, listening to local live music, and admiring some of Colorado's finest artistic creations.
Comedy Works. For an evening of gut-busting laughter, check out Comedy Works at its historic Larimer Square location. USA Today ranks Comedy Works as one the top five comedy clubs in the country. Jerry Seinfeld, Jay Leno and Chris Rock are just few of the legends who have performed here. While waiting for a show to start, stroll over to any of the nearby restaurants to enjoy some delectable cuisine or browse the boutique shops. The street's decorative lights always add to the unique atmosphere.
Catch the thrill. In the hot summer months, cool off at Water World, which boasts more than 46 water adventures and has been rated as one of America's top 10 water parks by the Travel Channel. If you want a combination theme and water park, check out Elitch Gardens, which offers 70 acres of thrills. Across from the Pepsi Center, it's one of the few downtown amusement parks in the nation.
Sports mecca. Denver is a professional sports paradise. Denver Broncos tickets are some of the hottest in town, especially with the arrival of future Hall of Fame quarterback Peyton Manning. In the summer, head to Coors Field for a Colorado Rockies game. Nestled in Denver's Lower Downtown (LoDo) neighborhood, the ballpark is near plenty of places to grab a local craft brew before or after the game. Wynkoop Brewing Company, Breckenridge Brewery, and Great Divide Brewing Co. are all within just a few blocks of the stadium. The Denver Nuggets (basketball), Colorado Avalanche (hockey), Colorado Rapids (soccer), Denver Outlaws (outdoor lacrosse), and Colorado Mammoth (indoor lacrosse) also have passionate fan bases.
Educational adventures. If you appreciate nature, the Denver Botanic Gardens is one of the top-ranked botanical gardens in the United States. It spans 23 acres and contains more than 15,000 species. The Denver Museum of Nature & Science is also a must-see stop with several rotating exhibits among staples like Egyptian mummies and local minerals. Or check out more than 4,000 animals and the world's largest Komodo dragon exhibit at the Denver Zoo.
We could easily keep going, but hopefully these ideas will help you plan your own Denver excursion. Have fun, take lots of pictures, and no matter how you end up spending your time, just make sure you come back soon!
What are your favorite things to do in Denver? You're welcome to add to our list in the comments!
Ken Erickson is a marketing coordinator in Burns & McDonnell's Denver office. When he's not using a variety of tools, resources and his love of storytelling to create effective marketing materials and messages for the company, he enjoys exploring all that Denver--and the surrounding region--have to offer.
Red Rocks image via Denver.com