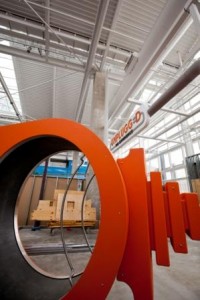 There are a lot of cool things happening over at Science City these days, but the one we're most excited about is the debut of the new Science of Energy exhibit, which is set to open in March.
The exhibit explores all aspects of energy — with an emphasis on renewable energy sources — and, through interactive displays, demonstrates how our own human energy relates. The idea is to give visitors a better understanding of where energy comes from and how it's created in an interactive way that makes these concepts relevant to daily life.
Science of Energy is the brainchild of students from Olathe North High School who won the Battle of the Brains competition in fall 2011. Their idea for "Unplugged" provided the foundation for the exhibit, and engineers, architects and construction professionals from Burns & McDonnell helped bring it to life.
One of the main attractions within the exhibit is a giant power wheel (pictured at right) that uses human energy to generate electricity. By running or walking on the wheel, you can see exactly how much energy it takes to illuminate the overhead "Unplugged" sign. A digital display tracks speed, distance and calories burned, but also how many watts of energy are generated. Construction crews placed the power wheel into position last week — a maneuver that required careful preparation and safety measures to lift the massive, one-ton wheel into its new home on the second floor of Science City.
But it's not just the power wheel that gives visitors glimpse at what human energy can do. Pedaling on stationary bikes will charge small electronics like mobile phones and iPods, and electric hand cranks show what it takes to power lights and a fan.
So what else can you expect? Our friends at Milbank Manufacturing Co. donated a life-sized wind turbine blade and the wind and solar impact table, featuring mini wind turbines and solar panels that can be manipulated to show how different scenarios can impact a city's energy generation. And one of the coolest things of all is the Imagine Energy Digital Wall — a giant, interactive touch screen that provides a world of information about energy, including an historical timeline, a global perspective on where energy is produced and consumed, and how a consumer impacts the world's resources.
We are proud to be part of transforming Science City into a world-class science center, and we hope you are just as excited about the Science of Energy exhibit as we are. What are you most looking forward to seeing when the exhibit opens next month?