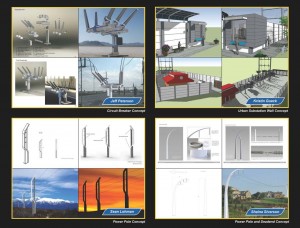 Electrical transmission and distribution systems are an effective and reliable method for delivering power. The problem is most of these systems are designed for function and cost, leaving much to be desired in terms of aesthetics. So we challenged students in the Advanced Industrial Design Studio class at Metropolitan State University of Denver to come up with innovative ideas to enhance the aesthetics and function of these systems. The results were 12 excellent designs that exceeded all expectations.
Inspired by the pylon design competitions that have become popular in Europe, the project challenged senior-level students to come up with designs that addressed function and cost, while still taking into consideration additional requirements, such as the aesthetic needs of the local environment, the viability of innovative technologies and unmet needs of the end-user. The students were given a range of subjects including substation wall design, power pole design and equipment design. Employees from Burns & McDonnell's Denver office provided technical guidance and selected the top four projects from the class.
Ryan Scheck, who works as an electrical designer in our Denver office and is a Metro State University alum, worked closely with the students throughout the semester. "This project is a first for the Industrial Design program at Metro State," Ryan said. "Most students weren't familiar with substations, so this project opened them up to an unfamiliar industry and they came up with some really great, fresh concepts that are applicable to the work we do. And it was a great resume builder for them."
Typical of any real-world design project, the students conducted research and field studies, and created drawings, models and final computer renderings that represented a feasible design concept. Each student's design was subject to periodic critiques by design faculty and project sponsors to determine the viability of each design's aesthetic and applicability.
Jeff Peterson, whose gas circuit breaker design was selected as one of the top four, described the project as an important stepping-stone in moving from student to professional. "As students, we had acquired the technical skills and knowledge necessary to complete a given design task, but we lacked real-world design experience," Jeff said. "Working collaboratively with Burns & McDonnell gave us an opportunity to gain valuable feedback from career designers, which in turn lead to more professional, applicable designs."
Interested in a closer look at Jeff's proposed breaker design? Take a look at this video clip:
Rounding out the top four designs were Shaina Siverson's power pole design concept, Sean Lohman's power pole design concept and Kristen Gueck's urban substation wall design.
We love any opportunity to collaborate with students, but we love it even more when the outcome exceeds our expectations like this did. We suspect we learned as much from them as they learned from us. Thanks to Metro State University for this exciting opportunity!