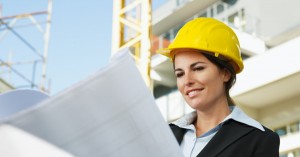 Introduce a Girl to Engineering Day (IGED) is one of our favorite E-Week activities. One of the most staggering statistics we see daily is the percentage of women in engineering. It hovers around 11 percent in the workforce and only 2.5 percent of women currently pursuing a four-year degree say they intend to graduate with a degree in engineering. IGED is a focused effort to reach out to these young women and expose them to the possibilities of engineering.
Across the country, organizations will participate in activities designed to show young women how engineering can change the world, and how they can be a part of it. The Kansas City section of the Society of Women Engineers (SWE-KC) will host its third annual Introduce a Girl to Engineering Day on Friday, February 22 at the University of Missouri at Kansas City. Female engineers from across the Kansas City metro area, including several from Burns & McDonnell, will mentor girls who have expressed an interest in engineering through fun and informative activities and panel discussions.
More than 150 students have registered so far — the highest participation number the Kansas City program has seen — and if that's any indication, young women seem to be open to the idea of engineering. Keeping them interested is the hard part. When you put engineering into context for girls, it helps them visualize their potential and gives them the self-confidence to do something they didn't think was possible. Want proof? Watch this.
To hear engineering described as fun is music to our ears! And to see young girls get this excited about engineering is what IGED is all about. Of course, the movement to attract and retain more women engineers is a year-round effort, but this program is a great way to start the conversation.
We can't think of a better way to help influence the next generation of female engineers than by connecting them with practicing female engineers and showing them the possibilities that exist with a career in engineering.
If you're on Twitter, be sure to follow our other can't-miss activity of E-Week 2013 — the live #STEMchat at 9 p.m. (ET) on February 20, featuring a panel of advocates who are committed to creating STEM career opportunities for girls.
What engineering activities are you participating in this week?
Image via engineeringschoolsusa.com