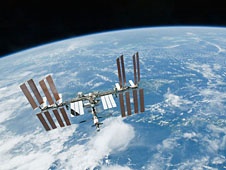 If you've ever wanted to chat with astronauts, now's your chance! NASA will host the agency's first-ever Google+ Hangout live with the International Space Station from 9:30 to 10:30 a.m. CST this morning.
"This unique opportunity will connect you, our fans, with astronauts living and working on the orbiting laboratory 240 miles above the Earth," according to NASA.
Not only do you have the chance to hang out with astronauts, you can ask them questions, too! NASA will be collecting questions via Google+, Twitter and Facebook. Just use hashtag #askAstro so they'll be sure to see your query.
The Google+ hangout will feature astronauts Kevin Ford, Chris Hadfield and Tom Marshburn. Not only will they answer questions — they'll also give you a glimpse into life inside the International Space Station.
"Station crews conduct a variety of science experiments and perform station maintenance during their six-month stay on the outpost," according to NASA. "Their life aboard the station in near-weightlessness requires unique approaches to every day activities such as eating, sleeping and exercising."
Kudos to NASA for such a cool idea. They predict this won't be the last hangout, either. The agency expects to host hangouts with astronauts both on the ground and in space, as well as scientists, engineers and managers.
We especially love that this event is happening during Engineers Week. What better way to get kids interested in exploring science, technology, engineering and math than by giving them opportunities to interact face-to-face with STEM professionals like astronauts?
We're excited about the hangout — and we hope you'll be there! Feel free to stop back by the blog and let us know what you thought of the event. We'll be sure to keep you posted on upcoming NASA hangouts, too.
Image via NASA