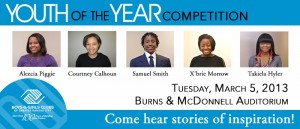 We love hearing stories about youth making a positive impact on their communities. On Tuesday, March 5, we have the privilege of hosting the Boys & Girls Clubs of Greater Kansas City and hearing the stories of five local teens who have done just that. The teens are competing for the title of Youth of the Year — an honor that recognizes local youth for their outstanding contributions to family, school, the Club and community, as well as for overcoming personal challenges and obstacles.
Being named Youth of the Year is the highest honor a Boys & Girls Club member can receive, and the awards ceremony is the culmination of a yearlong program that fosters character, personal growth and leadership qualities. The contestants will be judged based on their responses to a formal interview process, as well as their presentation skills. The judging panel includes seven community members, including a representative from Burns & McDonnell.
For the one teen who's lucky enough to take the title, the stakes are high. Up for grabs is a chance to compete against other teens in the state of Missouri for a $1,000 college scholarship from Tupperware Brands Corp. State winners move on to vie for the distinction of one of five regional winners across the country, and ultimately those five winners will contend for the title of National Youth of the Year — and an additional scholarship of up to $50,000 from The Rick and Susan Goings Foundation.
The event begins with a reception at 5:30 p.m. on Tuesday, March 5, followed by a program from 6-7:30 during which attendees will hear directly from the contestants about the hardships they've faced, how they've overcome them and how the Boys & Girls Club has helped shape them into admirable young people. The event will be held at the Burns & McDonnell world headquarters auditorium (9400 Ward Parkway, Kansas City, Mo.) and is open to the public. You won't want to miss it. RSVP by emailing Christian Kee or calling 816-462-0129.
Congratulations to the 2013 Youth of the Year Kansas City finalists: Courtney Calhoun (from the Independence unit), TaKiela Hyler (Hawthorne unit), Xbrie Morrow (Wyandotte County unit), Aleecia Piggie (Thornberry unit) and Samuel Smith (J&D Wagner unit). No matter who wins, each has so much to be proud of and a bright future ahead.
We hope you'll join us (and Mayor Sly James) on Tuesday, March 5, to witness firsthand how these teens have benefited from the Boys & Girls Clubs of Greater Kansas City and to help us celebrate their accomplishments.
Image via Boys & Girls Club of America