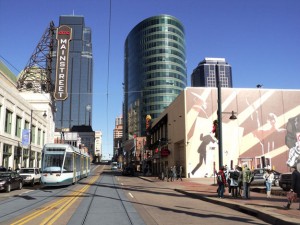 The KC Downtown Streetcar is moving full speed ahead now that the initial plans and financing for the 2.2-mile, $102 million project are in place. The city will host a public meeting on Wednesday, March 6, to talk with stakeholders about the project — especially those who live and/or work in downtown Kansas City. The meeting will be from 4 to 7 p.m. at Union Station's Grand Hall and is a great opportunity to learn more about the project and ask questions.
In addition to the public meeting, the city has launched a project website, which highlights project developments, conceptual plans and construction updates, maps of the route and a video of the streetcar line that uses a 3D rendering to give viewers a first-person ride along the route.
The next major streetcar project milestone is utility construction, which is expected to begin this summer. Once utility construction is completed, track construction is slated to begin in 2014. The downtown streetcar is scheduled to be completed and operational in the summer of 2015 and will span a 2-mile north-south route that connects downtown Kansas City's River Market neighborhood to the Crown Center/Union Station area. The route will largely run on Main Street and will serve the Central Business District, the Crossroads Arts District and the Kansas City Power & Light District, along with a number of popular downtown attractions.
The downtown streetcar will be a modern model, as opposed to a traditional streetcar, which is optimal because of its size and ability to run in existing street lanes, just like other vehicles. Other features include level boarding, which means you can walk straight from the station platform onto the vehicle without stepping up or down.
Interested in taking a "ride" along the streetcar route? Check out this video:
And for even more information and updates, be sure to follow the downtown streetcar on Facebook and Twitter.
Image via Smart Moves