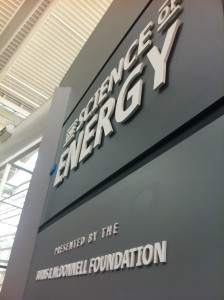 After nearly two years of planning, Science City's newest exhibit, The Science of Energy, opened today in what Union Station President and CEO George Guastello called "a historic moment" for Science City and Union Station.
The interactive and educational exhibit is the brainchild of students from Olathe North High School, winners of our Battle of the Brains competition. They created an expansive exhibit that encourages visitors to explore energy and their relationship to it.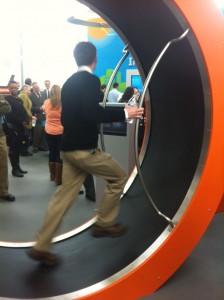 Step on The Power Wheel, for example, and see how you can use your own energy to generate electricity. As you start walking or running, your energy powers a large "Unplugged" sign, while a digital display tracks your speed, distance, calories burned and watts of energy generated.
Or explore the Wind and Solar Impact Table, which allows visitors to see the impact of energy generation on a model city. And before you go, be sure to hop on the Bicycle Generators, stationary bicycles that show how the body is an energy-generating machine. As you pedal, the energy of your motion creates electricity that powers small electronics.
Today's celebration included remarks from several key members of the project team, including our own president and CEO, Greg Graves, who congratulated everyone involved and spoke about the importance of encouraging our youth to explore the possibilities of STEM (science, technology, engineering and math) education.
"A child interested in science is a beautiful thing," he said. And we couldn't agree more!
To the 20 members of the Olathe North High School Battle of the Brains team, congratulations! We're so proud of all that you've accomplished — and we know you'll continue to do great things in the future. And to all 2,600 students who participated in the Battle of the Brains competition, thank you for your participation and dedication.
Now what are you waiting for? Get down to Science City at Union Station and check out the Science of Energy exhibit! And once you do, please stop back by the blog and let us know what you think. We're headed back as soon as possible — we can't get enough of the Power Wheel!