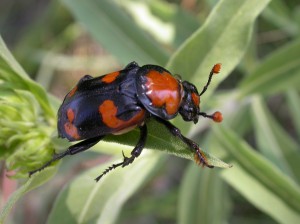 Regardless of the engineering project or location, changing regulations demand continuous education and monitoring, both on and off the project site. From local ordinances to changes at the federal level, we have to remain vigilant to keep our projects and our clients in compliance at all times. One such example? Changes to the U.S. Fish & Wildlife Service (FWS) protocols related to the American burying beetle, which impacts projects throughout the Midwest.
The American burying beetle has been on the U.S. endangered species list since 1989, and under the previous protocols, presence/absence surveys were required to determine if the beetles are present in the project area. If no beetles were found during the survey, no further action was required. If the surveys showed positive results for beetles, project teams had two options: bait the beetles away from the project area or trap and relocate them to suitable habitat somewhere away from the project area.
Now that the revised protocols are in place, neither of those options is available. Instead, project teams are required to work directly with the FWS to develop a customized project plan that avoids, minimizes and mitigates impacts to the American burying beetle. And once a plan is in place, ongoing monitoring is an integral part of the project process to help protect endangered species throughout the life cycle of the project.
If you're working on a project and think you might have issues with the American burying beetle, consider contacting us for assistance. Not only do we have a long track record of successfully working with the FWS — we can also evaluate your project to identify suitable American burying beetle habitats and determine if presence/absence surveys are necessary. Ultimately, we'll do whatever we can to help you mitigate impacts to your project schedule and budget, all while helping to protect this endangered species.
Sean Daly, CESSWI, is an Environmental Manager for Burns & McDonnell. Throughout his career, Sean has worn many hats, including serving as a wildlife biologist. More recently, he's developed a focus on pre-construction permitting and environmental compliance during construction and enjoys helping clients be successful through upfront coordinating and planning.
Image via the U.S. Fish & Wildlife Service's South Dakota Field Office