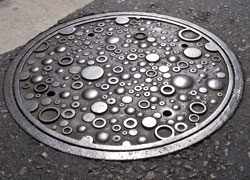 Artists, you may have dreams of seeing your work in a gallery or museum. Instead, why not have your creations immortalized on manhole covers? No, we're not joking! The city of Vancouver has launched a public art contest designed to find creative designs for manhole covers.
"We are looking for artwork that helps identify and uniquely distinguish sanitary from storm sewer manhole covers," according to the contest website. "Give us your designs that express Vancouver's spirit, values and a vision for a sustainable future."
The city needs new manhole covers as a result of a decades-long project to separate storm sewers from sanitary sewers. And since the production costs of manhole covers are the same regardless of the design, the city seized an opportunity to incorporate public art into something that's typically overlooked.
To be eligible, you must live, work or study in Vancouver. Each entrant can submit a maximum of two designs, one each for storm sewers and sanitary sewers. Submissions are due by 4 p.m. on April 15.
All submissions will be exhibited during a show at Vancouver's Interurban Gallery from May 28 to June 8. The two winning designs (one for each type of sewer) will be announced on June 1 after they're selected by a jury of artists and environmental professionals.
The winning designs will be used on cast-iron manhole covers, giving the artists an opportunity to have their work immortalized on Vancouver's streets for up to 100 years.
This isn't the first time Vancouver has hosted such a contest. In 2004, Jen Weih won the sanitary sewer category with her design of bubbles rising to the surface (pictured above).
Kudos to Vancouver for launching such a cool public art initiative — we hope to see other cities follow suit! And if you decide to enter the contest, we wish you the best of luck. We'll be sure to keep you posted on the winning designs!
Image via The Drive