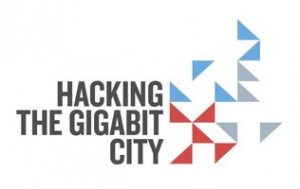 Now that Google Fiber has started to roll out in the Kansas City metro area, there's no doubt the lightning fast gigabit Internet will change the city's technology landscape. To help make sure the ultra-fast network is fully maximized, KC Digital Drive has teamed up with the Kauffman Foundation, Mozilla Foundation and US Ignite to host the first Hacking the Gigabit City event this weekend.
The hack-a-thon kicks off Friday, March 22. Once teams have made their initial pitches in the evening, they'll start work on their ideas so that they can begin project demos at 4 p.m. on Sunday, March 24.
The event will undoubtedly energize the local tech community — but it's also an important step in considering (and creating) answers to some important questions, according to event organizers:
How will people of all ages use this infrastructure to live, learn and make?
How might the typical Internet experience become richer than it is today?
How will the network change the way we interact with people, businesses, government and institutions?
What are the new opportunities in connected learning, healthcare and other industries?
What are the next big opportunities for entrepreneurs?
As teams work this weekend to create meaningful solutions, they'll add to a list of gigabit fiber-related projects already in progress, including:
Virtual software checkout from your local library
In-school telehealth access
3D visualization for city planning and civic engagement
Massive open online course environment
Kansas City is on the precipice of a tech revolution — and this is your chance to be an eye witness. Sunday's project demos are open to the public and a waitlist is available for extra spots. If you're interested in attending, register now.
We can't wait to see what the teams produce this weekend — and we'll be sure to keep you posted. In the meantime, we'd love to hear what's at the top of your gigabit Internet wish list. What next generation application do you want to create?