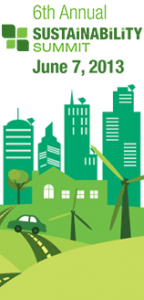 Corporate sustainability continues to be a hot topic, but these days it's about more than just the environment. In order to remain competitive, it's vital for organizations to manage the interests of stakeholders — the community, workplace, marketplace and investors — in a way that is responsible and profitable. At the sixth annual Burns & McDonnell Sustainability Summit on Friday, June 7, we're bringing together national leaders in sustainability for a free event to talk about their approach to the triple bottom line —people, planet and profit.
The Sustainability Summit is a great opportunity to learn more about sustainability reporting and sustainability programs across a variety of industries. The line-up of speakers includes Scott Spoerl, Esq. from Unilever; Nathan Nissen from Kohler Co.; Nancy Mancilla from ISOS Group; Dr. Tahmid Mizan from ExxonMobil Corp.; Sandy Nessing from American Electric Power; Joseph Roth from IKEA; Bob Young from American Farm Bureau Federation; and Bruno Sarda from Dell.
If you're charged with corporate sustainability or environmental work or just have a general interest in sustainability, we hope you'll join us at our world headquarters in Kansas City, Mo., for our Sustainability Summit on June 7. The half-day event is free to anyone who would like to attend, but space is limited, so register today. And if you're looking for yet another reason to attend, take a peek at what past attendees have said about the event (or read this recap from last year's event), and expect this year to be even better.
As a bonus this year, we're also hosting the Midwestern launch of two Global Reporting Initiative (GRI) Master Classes for anyone who is interested in learning more about the sustainability reporting using the yet-to-be released G4 guidelines, which are expected to be formally released in May. The two pre-conference workshops will provide practical guidance and lessons on navigating some of the challenges associated with sustainability reporting. The Master Classes will be held on Thursday, June 6, from 1-6 p.m. Registration is $450 and includes both classes.
Be sure to subscribe to the blog for news on the Sustainability Summit, including updates from several of the presenters, as well as more information on the GRI Master Classes. And if you're on Twitter, follow @BurnsMcDonnell and hashtag #bmcdss13 leading up to and during the conference. We hope to see you there!