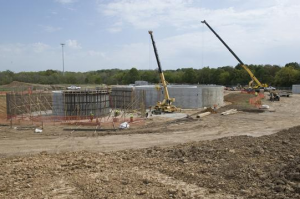 At first glance, a planned wastewater-treatment system in southwestern Johnson County is a much-needed facility that will address long-standing sewer needs in the nearby communities of Gardner and Edgerton.
Look more closely at the project, however, and it becomes clear that this plant is about more than providing new wastewater solutions to a community. It's also about creating a system that not only meets current demands, but also is prepared to expand in order to accommodate future growth.
After all, the wastewater treatment plant's 6-acre site is strategically located not just in the midst of two small but bustling communities—it will also meet the demands of a massive new intermodal freight hub located 25 miles southwest of Kansas City. The new Burlington Northern Santa Fe Intermodal Facility and adjacent Logistics Park KC, a combined 1,000-acre complex, will allow for the unloading of freight delivered by rail between Los Angeles and Chicago, and also provide room for up to 7.1 million square feet of warehouse space and distribution centers.
Initially, the new plant will handle up to 500,000 gallons of wastewater a day, a total that could soon rise to keep pace with future expansions that are enabled by the plant's innovative design.
The new plant will treat wastewater using several treatment processes, including screens for large debris, biological processes for nutrients, filters for phosphorous and ultraviolet light for disinfection. For residual solids, the plant will rely on aerobic digestion, storage and thickening and dewatering via centrifuge.
Burns & McDonnell has teamed up with CAS Construction LLC to provide design-build services for the project, which is underway with startup planned early this summer. This joint effort typifies the collaborative nature not just of the plant itself, but of the entire project.
"This project is all about partnerships," says Jeff Keller, project manager for Burns & McDonnell. "We're all working together to provide the best value and service for everyone involved."
Even the participating communities are embracing the collaborative spirit of the project. Edgerton is responsible for providing sewer service to the combined complex, while bringing Gardner into the project enables both communities to meet long-term needs faster (and at a lower cost) than by planning and building their own separate systems.
"The Big Bull Creek Wastewater Treatment Facility is a cooperative project that benefits both cities and all of southwest Johnson County," says Beth Linn, City Administrator for Edgerton. "The partnership with Gardner helped both cities be good stewards of their taxpayers' dollars due to tremendous cost savings."
Congratulations to all involved on this significant project that will help position an already active area for additional growth. We'll be sure to keep you updated on the plant's progress!
Image via the Kansas City Business Journal