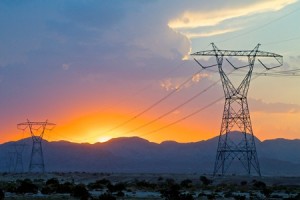 The Sunrise Powerlink was an ambitious, challenging project for San Diego Gas & Electric Company (SDG&E). The 117-mile transmission line delivers renewable energy from California's Imperial Valley to customers in San Diego and Southern Orange County, crossing through rugged terrain and environmentally sensitive areas. It has been recognized as an engineering masterpiece, earning accolades like ENR California's Project of the Year and ACEC California's highest honor, the Golden State Award. And now it's also being recognized for its innovative use of technology.
The National Association of Environmental Professionals (NAEP) has selected the Sunrise Powerlink as a recipient of its 2013 National Environmental Excellence Award, recognizing the project's environmental monitoring and compliance tools in the Best Available Environmental Technology category.
During construction of the Sunrise Powerlink Project, SDG&E placed safety and environmental compliance at the forefront and recognized the need to implement state-of-the-art tools and processes to support compliance on the Project.
The complexities of the Sunrise Powerlink project required carefully coordinated schedules, while adhering to strict environmental requirements and tight deadlines. The electronic environmental monitoring and compliance tools provided team members with mobile applications on laptops or tablets that enhanced communication with the entire project team, including SDG&E staff, contract staff and regulatory agencies. Using web-based technologies like GIS and GPS, the tools helped to seamlessly integrate office and field activities, resulting in one connected team. The tools allowed all appropriate project stakeholders to see up-to-date information from both field and office activities and use this information to make informed decisions.
The Sunrise Powerlink project included intense environmental data collection — five years and an 11,000-page environmental impact report. What once would have required field personnel to carry reams of paper and maps was loaded onto mobile PCs and accessible at their fingertips from anywhere. This type of quick information access meant significant cost and time savings and provided field personnel with the best, most current project information.
The Sunrise Powerlink project has delivered much-needed energy to the residents of San Diego and Southern Orange County, and Burns & McDonnell is excited to join SDG&E at the NAEP awards luncheon in Los Angeles today to accept the award. Congrats to all the project team members for your work in making this project such a success.