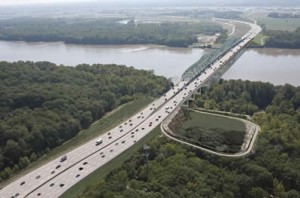 A celebratory groundbreaking in January marked the official start of the Daniel Boone Missouri River Bridge project, which includes design of a new bridge, rehabilitation of an existing river crossing and significant approach roadway work.
Despite chilly temperatures and sporadic snow cover, officials, civic leaders and stakeholders gathered earlier this year to kick off the long-awaited project. Since the ground was too cold for an actual groundbreaking, participants dug into a large pile of sand that was deposited on North Outer Road in Chesterfield Valley.
The $110 million design-build project is scheduled to be complete in 2015. Along with a new bridge, the project includes raising the height of the Spirit of St. Louis Boulevard overpass on I-64 to at least 16 feet, 6 inches. Additionally, the Chesterfield Airport Road interchange will be rebuilt so that drivers on the north service road will be able to access westbound I-64. A continuous fourth lane will extend from the Chesterfield Airport Road interchange to Highway 94 in St. Charles County.
Burns & McDonnell's Transportation Group and our St. Louis office will design the bridge, and construction will be done by the Walsh-Alberici joint venture team. The new structure will replace the 80-year-old westbound bridge, which can no longer support interstate-level traffic and requires regular preventative maintenance. On the eastbound side, a new shared use path will connect the KATY Trail to the Monarch Chesterfield Levee Trail, allowing access for bicyclists.
Despite extensive construction scheduled for this year and next, Missouri Department of Transportation officials say all traffic lanes will be open throughout much of the project — good news for St. Louis drivers! Some weekend closures will be required.
Interested in staying up-to-date on the project? MoDOT is offering periodic e-updates when new information is available. If you'd like to sign up, email Linda Wilson Horn at linda.wilson@modot.mo.gov.
Rendering via MoDOT